Bruno Dubois s'exprime sur le lien entre Alzheimer et anesthésie générale
---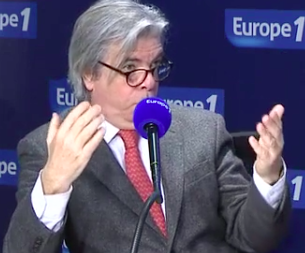 Bruno Dubois, bien connu dans le milieu de ceux qui travaillent dans le champ du vieillissement pathologique et plus particulièrement dans celui de la maladie d'Alzheimer s'est exprimé sur europe 1 il y a deux semaines.
Si le témoignage est très court, il a le mérite de rappeler que les mécanismes sous jacents aux troubles cognitifs complexes comme ceux observés dans la maladie d'Alzheimer sont nombreux et encore mal connus. L'acquis et les événements de vie modulent, sans aucun doute, l'expression des troubles et donc l'existence même du diagnostic (qui est posé sur la base d'un nombre suffisant d'éléments cliniques).
La bibliographie est relativement généreuse sur cette question du lien entre anesthésie et Alzheimer et certaines références sont en accès libre. Les personnes intéressées pourront facilement jeter les bases d'une revue critique sur la question !
Par exemple :
Papon, M.-A., Whittington, R. a, El-Khoury, N. B., & Planel, E. (2011).
Alzheimer's disease and anesthesia
.
Frontiers in Neuroscience
,
4
(January), 272. doi:10.3389/fnins.2010.00272
Bittner, E. a, Yue, Y., & Xie, Z. (2011).
Brief review: anesthetic neurotoxicity in the elderly, cognitive dysfunction and Alzheimer's disease
.
Canadian Journal of Anaesthesia
,
58
(2), 216–23. doi:10.1007/s12630-010-9418-x
Thaler, A., Siry, R., Cai, L., García, P. S., Chen, L., & Liu, R. (2012).
Memory Loss, Alzheimer's Disease and General Anesthesia: A Preoperative Concern
.
Journal of Anesthesia & Clinical Research
,
3
(2). doi:10.4172/2155-6148.1000192
Chen, P.-L., Yang, C.-W., Tseng, Y.-K., Sun, W.-Z., Wang, J.-L., Wang, S.-J., … Fuh, J.-L. (2014).
Risk of dementia after anaesthesia and surgery
.
The British Journal of Psychiatry : The Journal of Mental Science
,
204
(3), 188–93. doi:10.1192/bjp.bp.112.119610
Rundshagen, I. (2014).
Postoperative cognitive dysfunction
.
Deutsches Ärzteblatt International
,
111
(8), 119–25. doi:10.3238/arztebl.2014.0119
Pensez toujours à faire un tour par Google Scholar

http://scholar.google.fr/
11