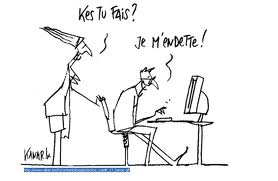 Avoir une jolie bibliothèque pour pas cher ? C'est encore possible grâce à Internet et des sites comme Amazon ou Abebooks. J'ai déjà eu l'occasion d'en parler mais Amazon propose très souvent du neuf et de l'occasion pour chacun de ses livres. Les prix sont parfois extrêmes avec des remises qui frôlent les 90% ! Avec de tels rabais, aucune raison de ne pas parader devant les amis/collègues/stagiaires avec une bibliothèque digne de ce nom.
Prenons l'exemple d'un ouvrage dont je viens de faire l'acquisition : Cognition and cancer (2008), probablement le premier livre traitant de la question et l'un des rares sur le sujet de toute manière.
Sur le site Amazon.fr, vous trouvez ces offres en dessous du prix neuf, à savoir ici :
Vous ne rêvez pas... nous passons bien de 99,97 euros à 12,17 euros. Les rabais ne sont pas toujours aussi exceptionnels mais dans l'ensemble, cela reste très souvent particulièrement intéressant.
Si l'offre n'est pas intéressante ou que vous cherchez un livre assez ancien, Abebook.fr vous offre un marché grand de plus de 140 millions de livres d'occasion :
Pensez à bien vérifier le prix des frais de port, certains professionnels se rattrapent parfois la dessus mais dans l'ensemble, la bonne occasion est toujours à portée de main !
Dans mon exemple, mon "Cognition and cancer" me sera revenu à 15,56 euros avec les frais de port... Royal non ?
Edit : 06/10/12
Il aura fallu à peine 10 jours pour recevoir mon livre de Chicago !
100% satisfait, le livre est flambant neuf, n'a même jamais été ouvert, tout ça pour 15 euros, j'en aurai presque honte