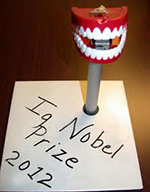 Chaque année sont récompensées les recherches scientifiques les plus improbables du moment. Les IG Nobel ont recompensé cette année, dans la section psychologie, un article de Eerland,Guadalupe et Zwaan.... Ces noms ne vous disent certainement pas grand chose mais si je rajoute que leur étude s'est intéressée à la tour Eiffel ??
Les plus assidus auront peut être fait le rapprochement avec l'article de fond d'Amélie Ponchel dans le premier numéro de nos cahiers de neuropsychologie, travail effectué à partir d'un article de 2011 intitulé : "Leaning to the left makes the Eiffel Tower seem smaller".
Nous avons eu le nez creux sur cet article bien intriguant... d'autres auraient dit pour le moins "improbable" !
Si vous n'avez pas encore lu cet article, il est toujours temps de vous rattraper : http://www.neuropsyc...sychologie-r244
Découvrez les autres IG nobélisés 2012 : http://www.improbabl...winners/#ig2012
(Merci @Marie.M pour l'info
)