Attaque panique après une lésion amygdalienne bilatérale ?
---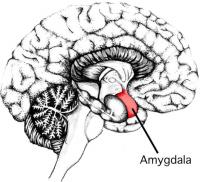 Pierre Barthélémy est l'auteur d'un billet intéressant sur le blog du journal Le Monde. Il évoque le cas d'une femme atteinte de la maladie d'Urbach-Wiethe, pathologie qui peut engendrer des calcifications des amygdales. Le résultat est une altération profonde du traitement de la peur et des stimuli aversifs. Si ce genre de cas a déjà été décrit dans la littérature, la fin de l'article est très intéressante. Pierre Barthélémy cite un article paru le 3 fevrier dans la revue Nature Neuroscience : Fear and panic in humans with bilateral amygdala damage.
Dans celui-ci, les chercheurs rapportent avoir pu faire expérimenter la peur à cette femme en lui faisant respirer un mélange gazeux contenant 35 % de CO2 (100% la norme). Cette situation a déclenché une véritable attaque de panique chez la patiente. La condition expérimentale a été reproduite avec succès chez deux soeurs jumelles ayant la même maladie.
L'hypothèse qu'ils formulent est la suivante : les amygdales sont la gare de triage pour tous les stimuli externes passant par les cinq sens – le lion qui fonce vers vous, le klaxon de la voiture, l'odeur de brûlé, etc. En revanche, quand le stimulus est interne, comme en cas d'asphyxie où des capteurs chimiques contenus dans votre organisme signalent la trop grande présence de CO2 et l'acidification du sang qu'elle implique, c'est par un autre chemin que la peur émergerait dans le cerveau. Un chemin qui reste à décrir...
N'hésitez pas à parcourir les commentaires du blog, ils sont intéressants eux aussi.
Pour lire le billet paru dans Le Monde : http://passeurdescie...ue-pas-la-peur/
L'article paru dans Nature Neuroscience est accessible librement ici : http://renehurlemann.../storage/48.pdf