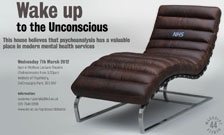 Le King's College de Londres est un lieu d'enseignement et de débat à l'image du Maudsley Debate, organisé par la division de psychologie médicale et de psychiatrie. Cette séance de débat public est organisée plusieurs fois par an autour de thèmes qui ont en commun leur caractère polémique. Le débat prend la forme d'une assertion autour de laquelle plusieurs invités sont amenés à discuter. Un vote a lieu pour confirmer l'assertion ou la rejeter à la fin du débat.
Le premier débat eu lieu en janvier 2000 avec pour titre: This house believes ECT is barbaric and ineffective
Le 44eme et dernier débat en date a eu lieu le 7 mars 2012 avec cette assertion: This house believes that psychoanalysis has a valuable place in modern mental health services.
Après le débat, les résultats du vote ont été les suivants: 251 ont confirmé l'assertion, 36 se sont abstenus et 44 ont voté contre.
Si je me fais l'écho de cette initiative, c'est parce qu'il est sain de voir que le débat garde toute sa place dans la communauté scientifique anglaise. La polémique a du sens si tous les intervenants ont encore le droit de citer, ne sont pas discrédités par leur simple appartenance théorique.
Voilà encore un beau projet dont nous pourrions nous inspirer en tout cas !
La page internet du débat: http://www.kcl.ac.uk...ey-Debates.aspx
La page Facebook: https://www.facebook...42085019161549/
A propos de Maudsley:
Henry Maudsley (1835–1918) est un précurseur de la psychiatrie britannique. Né en 1838 à Rome, petit hameau proche de Giggleswick dans le Yorkshire du Nord, il fit ses études à l'University College de Londres où il obtint le titre de Docteur en médecine en 1857 ; il prit alors un poste à l'asile de Wakefield. À 23 ans, il obtint le grade de super-intendant médical au "Cheadle Royal Hospital" à Cheadle Hume. Il revint à Londres en 1862 ; il y exerça comme professeur de médecine légale de 1869 à 1879. De 1866 à 1874, il dirigea l'asile privé de John Conolly à Hanwell. Il avait épousé la plus jeune des filles de Conolly, Ann, alors âgée de 36 ans.

De 1862 à 1878, il fut aussi rédacteur en chef du Journal of Mental Science, périodique de l'Association Médico-Psychiatrique britannique qui paraît aujourd'hui sous le titre de British Journal of Psychiatry. Maundsley travailla à étendre les centres d'intérêt de la publication à la psychologie et à la philosophie.

En 1907, Maundsley collabora avec le London County Council pour fonder le Maudsley Hospital, avec un don de 30 000 £, un établissement destiné à traiter les affections psychiatriques profondes et comportant également un hôpital de jour pour les affections débutantes ou légères. L'établissement abritait également des unités de recherche et d'enseignement. Les bâtiments furent achevés en 1915 et un acte du Parlement rendit possible les internements volontaires. L'établissement fusionna avec le Bethlem Royal Hospital en 1948. Source