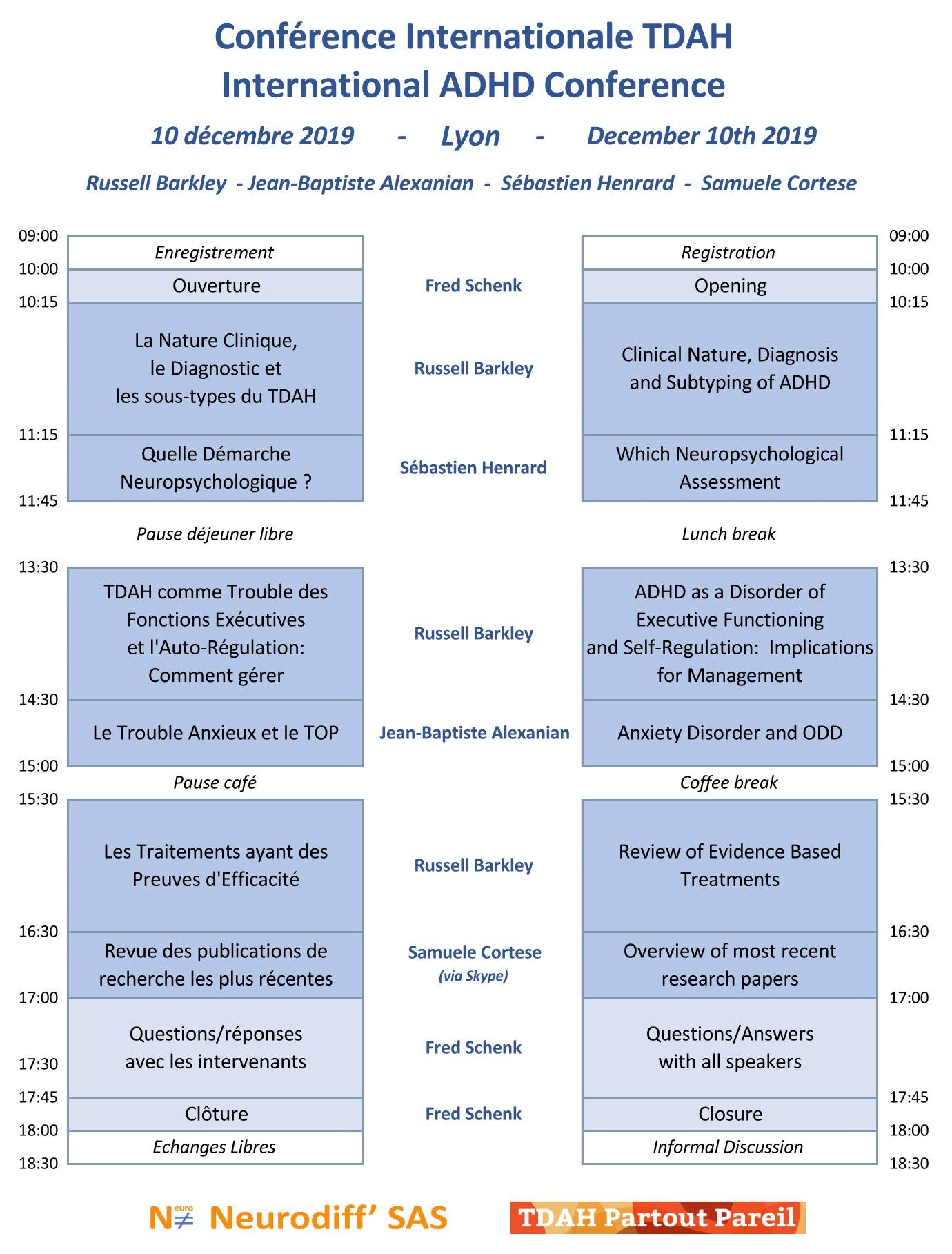 Conférence Internationale sur le TDAH
Agenda général

Event created by Elsa Hervo
Event details
Un événement exceptionnel à Lyon !
Une journée de conférences avec le
Dr Russell A. Barkley
:
Expert internationalement reconnu dans le domaine du TDAH (Trouble du Déficit de l'Attention avec ou sans Hyperactivité) chez les enfants et les adultes, il a consacré sa carrière à diffuser largement des informations scientifiques sur le TDAH. Auteur de très nombreux livres sur le sujet, ainsi que du "The ADHD Report", il est professeur clinicien en psychiatrie au centre de traitement pour enfants de Virginie et au centre médical de l'université de Commontwealth à Richmond, en Virginie
http://www.russellbarkley.org/
.
Le Dr Barkley présentera 3 conférences (traduites en simultané de l'anglais au français) :
La nature clinique, le diagnostic et les sous-types de TDAH (Clinical Nature, Diagnosis and subtyping of ADHD),
TDAH comme trouble des fonctions exécutives et autorégulation : comment gérer (ADHD as a disorder of executive functioning and self-regulation : implications for management),
Les traitements ayant fait leurs preuves d'efficacité (Review of evidence based treatments).
Il participera en fin de journée à un moment de questions/réponses avec l'ensemble de la salle.
Programme de la journée :
  9 h 00 - 10 h 00 : café d'accueil et enregistrement
10 h 00 - 11 h 45 : conférences
13 h 30 - 15 h 00 : conférences
15 h 00 - 15 h 30 : Pause café
15 h 30 - 17 h 30 : conférence et questions/réponses
Restauration :
Pause déjeuner libre avec toute sorte de restauration au pied du bâtiment.
Accès :
Parking gratuit attenant
Transports en commun à 5 minutes à pied
Aéroport St Exupéry : 20 minutes (ligne directe Rhône Express)
Centre Lyon (Part-Dieu) : 10 minutes
Métro - Tramway - Bus